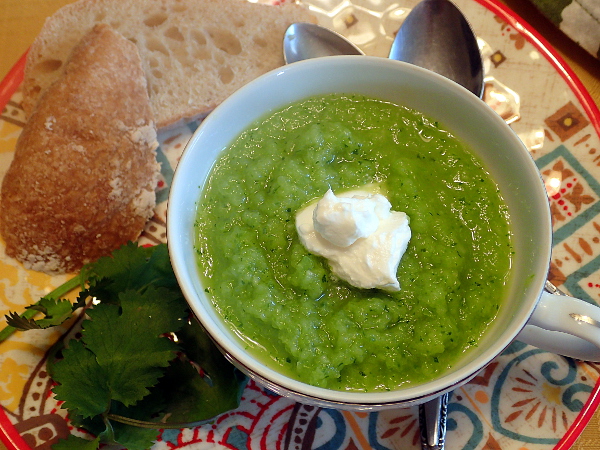 Summer-like weather finally(!) arrived in northern Wisconsin this weekend, with temps "soaring" into the upper 70s. It was a perfect opportunity for the first gazpacho of the year. This Spicy Cucumber Gazpacho features a wealth of green vegetables and can be put together quickly. No cooking is required and all the ingredients can be dumped together into a food processor or blender for a soup that comes together in about 1 minute.
There are many variations on gazpacho, but this easy recipe for gazpacho is one of my favorites. It's bursting with freshness and I love the cool flavors of the cucumbers fighting it out with the spicier jalapeno pepper and bit of hot sauce. If you prefer your soup mild, feel free to leave the jalapeno out – it will still be delicious.
And even if you think you don't like cold soups, give this one a try.  I bet it will change your mind about cold soups and give your something else to enjoy throughout the summer months.

Spicy Cucumber Gazpacho
Ingredients
2 large cucumbers, peeled and seeded
10 sprigs cilantro
1 green bell pepper, seeded and roughly chopped
1 large garlic clove, minced
1 jalapeno pepper, seeded and minced
1 tablespoon white vinegar
1 tablespoon extra virgin olive oil
1 tablespoon lemon juice
1 teaspoon salt
1 teaspoon hot sauce
Greek yogurt to top
Instructions
Put all the ingredients into a food processor or blender and puree until smooth
Transfer to a bowl or non-reactive container and refrigerate 4 to 6 hours, until very cold
Serve in small cups topped with a spoonful of Greek yogurt and additional cilantro, if desired