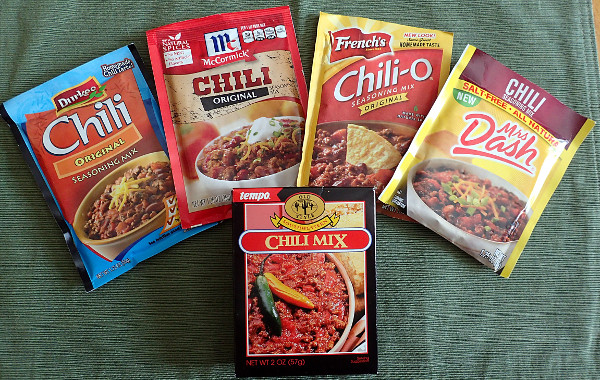 If you think all chili seasoning packet mixes are the same…
you are wrong.
Dead wrong.
The next time you're in the grocery store and decide you're going to make chili from one of those handy chili seasoning packet mixes, consider this: your chili and your diners are depending on you making the right decision. And that means purchasing the chili seasoning mix that will deliver the best flavor.
I'm always trying to make better soup and chili.
That's why I put 5 chili seasoning mixes to the test.
The goal?
Find one chili seasoning mix to rule them all.
What is the best chili seasoning packet mix?
We set out to find the best chili seasoning packet mix that can be purchased locally here in Superior, Wisconsin, although most of these can be purchased across the U.S. There are certainly mail-order options for chili seasoning mixes, but I wanted to treat this as if I were going into the grocery on a weeknight and relying on that selection alone. After all, when it's dinner time we can't be waiting for a delivery!
I purchased five different but common chili seasoning mixes from my local grocery store (Super One Foods). The criteria was that each mix must call for the same preparation and ingredients to make a fair comparison between the group. Each of these packets called for first browning 1 pound of ground beef before adding a 14.5-ounce can of tomatoes and a 15-ounce can of Kidney beans (undrained). The chili was then meant to simmer 10 minutes before serving.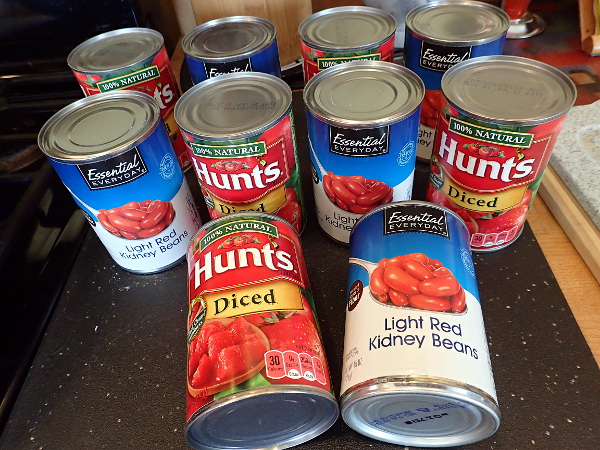 On a digital scale, I weighed exactly 16 ounces of ground beef for five different mixes and put the meat into individual containers to await cooking. We browned the beef in a large skillet over medium-high heat and then drained off excess fat. The seasoning packet contents were then stirred into the beef before adding tomatoes and beans. After mixing thoroughly, each chili was covered and allowed to simmer for 10 minutes. I then placed the individual chili into its own container in an electric buffet server that uses water to keep things warm. The skillet and utensils were washed thoroughly between each batch of chili to ensure there was no cross-contamination from the previous batch. This isn't science, but I wanted to keep this comparison as objective as possible.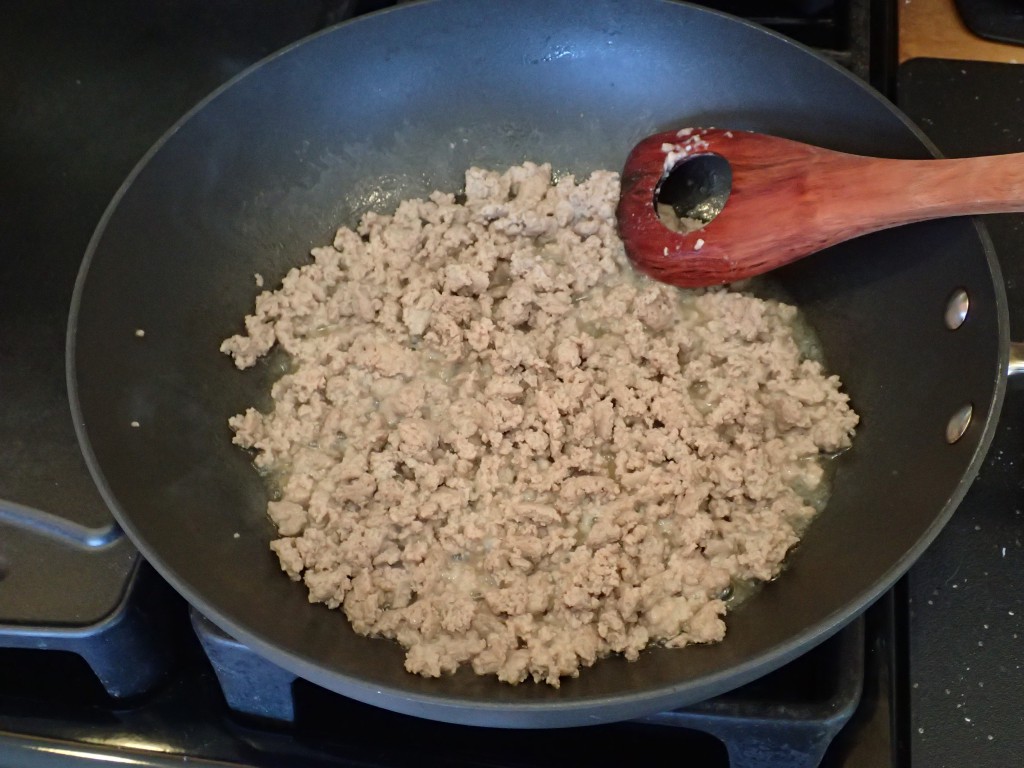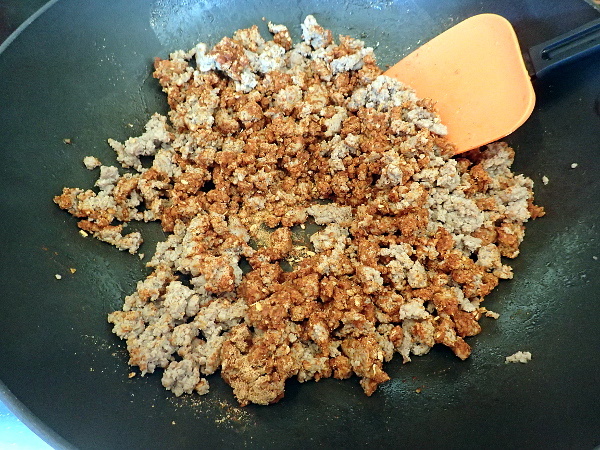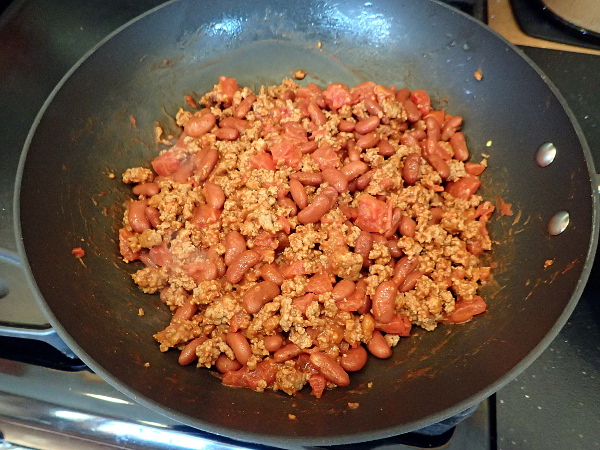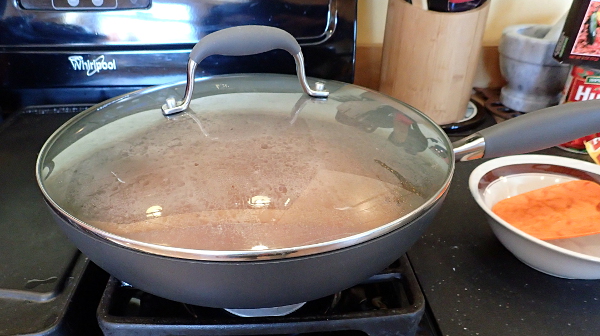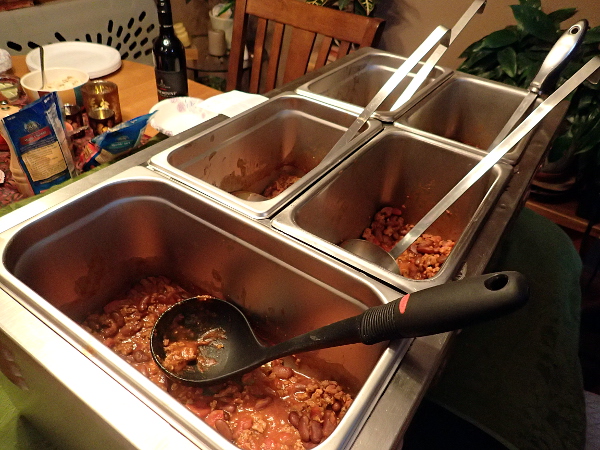 Nine Tasters rated each chili on a scale of 1 to 5, with half-scores (i.e. 3.5) allowed. Each chili was judged "naked," without any additional seasonings or toppings. What you see is what you get – and taste.
Chili Seasoning Mix Rating Scale
1 = Poor
2 = Fair
3 = Good
4 = Very Good
5 = Excellent
The contenders:
Tempo Old Style Southwestern Chili Mix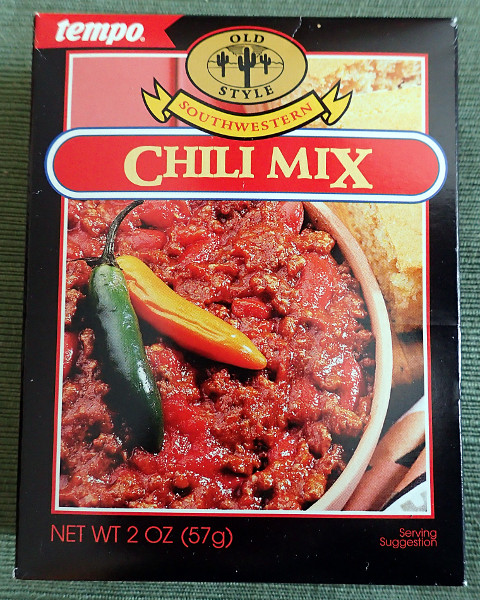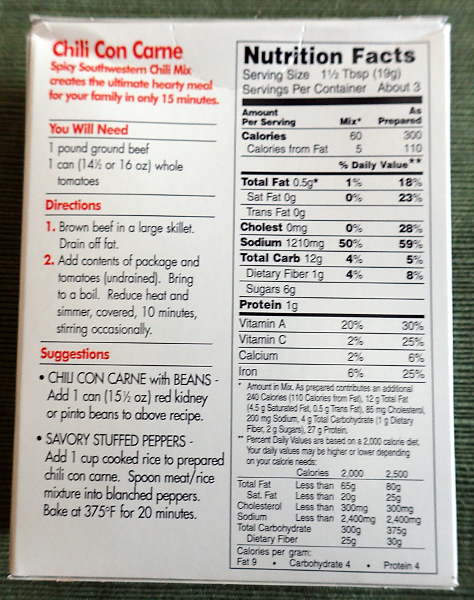 Mrs. Dash Salt-Free Chili Seasoning Mix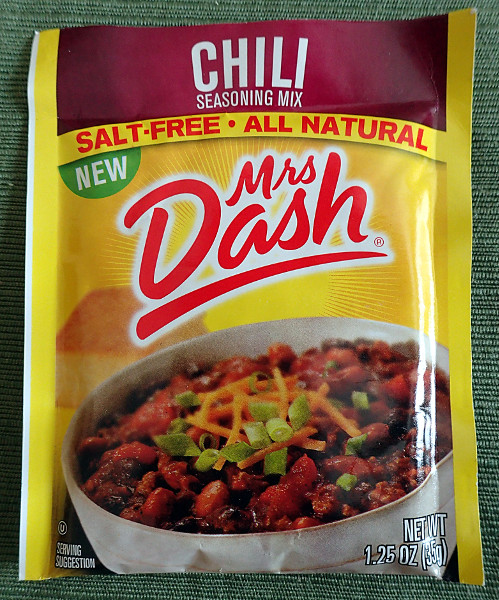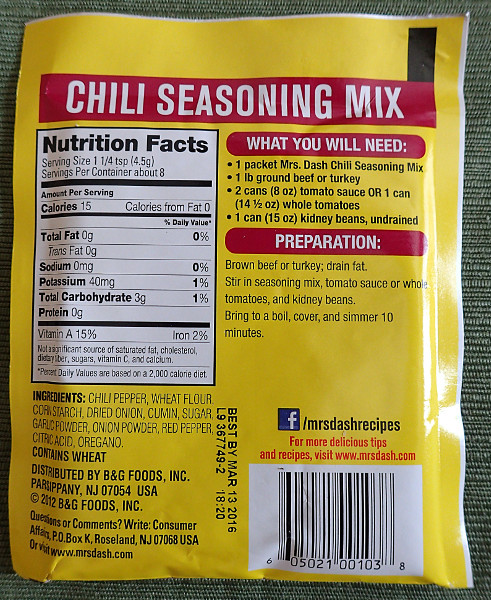 McCormick Original Chili Seasoning Mix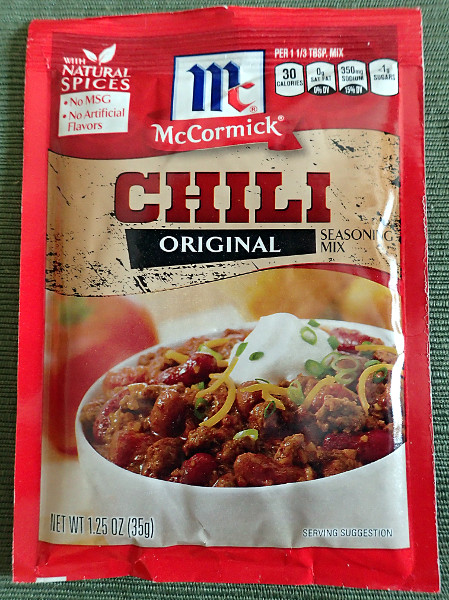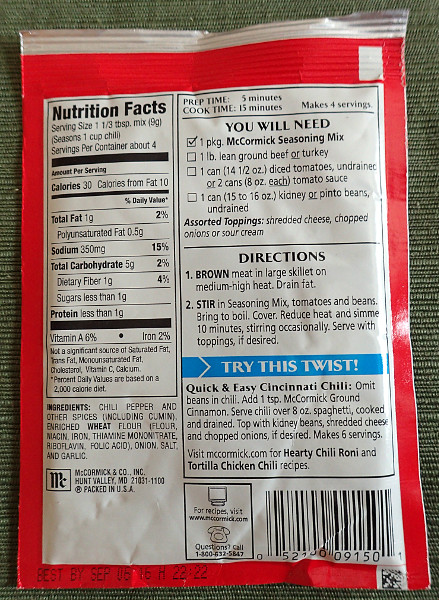 French's Chili-O Original Seasoning Mix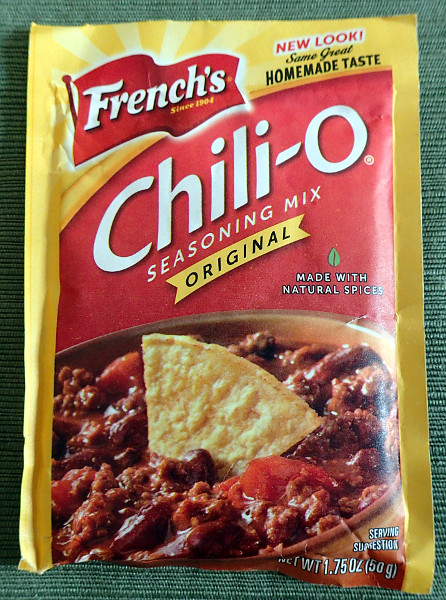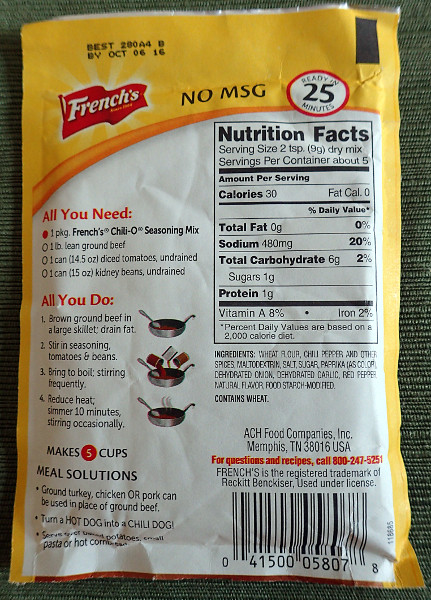 Durkee Original Chili Seasoning Mix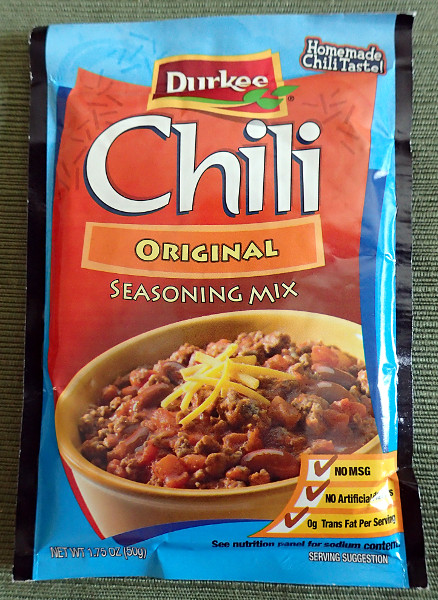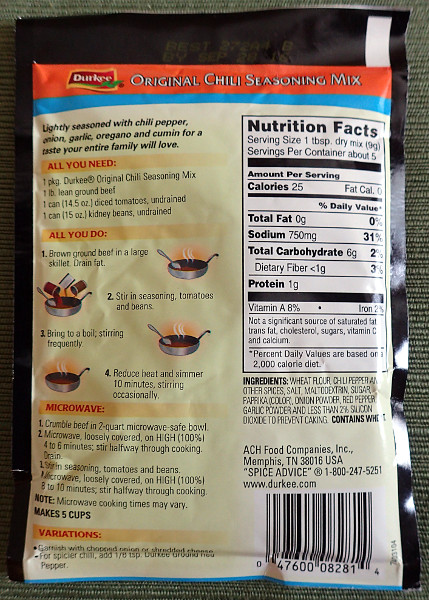 The Verdict:
Nine individual tasters judged each chili, who provided a numerical rating and optional comments. The ratings were added and then averaged. From worst to first, here are the final results:
5th Place (last): Mrs. Dash Salt-Free Chili Seasoning Mix –

Final Score = 1.5 out of 5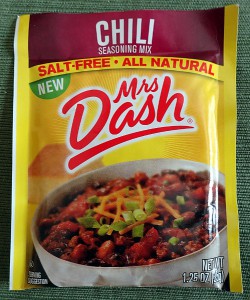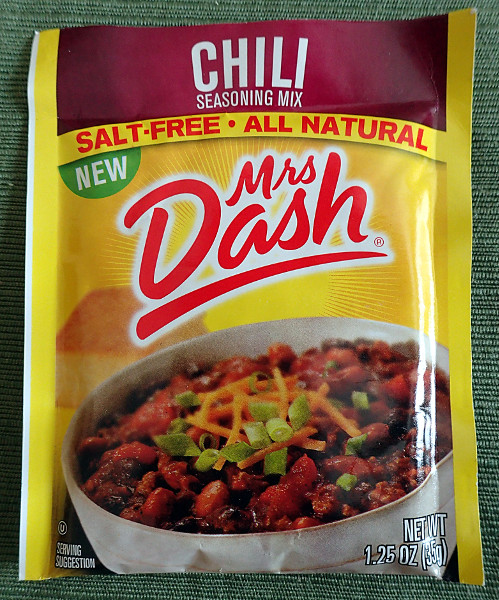 Overall, tasters were unimpressed with this mix, with comments ranging from: "very bland" and "flavorless" to "Is there seasoning in this?" This was the only mix without salt as an ingredient, and it seems that chili without salt is a lot like other food without salt – seriously in need of flavor.
4th Place: Tempo Old Style Southwestern Chili Mix –

Final Score = 2.4 out of 5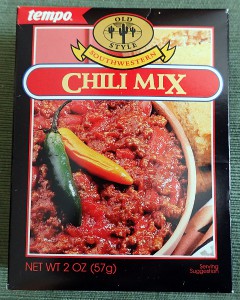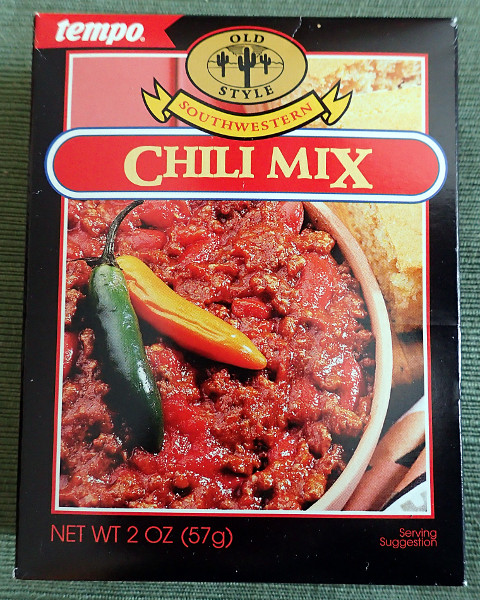 I was probably most intrigued by this mix because of its ingredients. Whereas the other four mixes described either chili pepper or wheat flour as the primary ingredient, Tempo starts off with dextrose – aka glucose – a type of sugar. I'm not sure what makes this mix "Southwestern," but it didn't fare much better than Mrs. Dash. Tasters comments included, "mild and tomato taste," "tomato-sauce taste with no bite" to "filling but bland."
3rd Place: McCormick Original Chili Seasoning Mix –

Final Score = 2.6 out of 5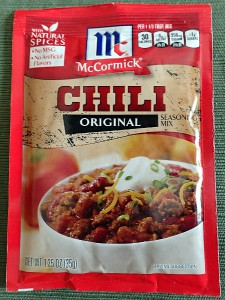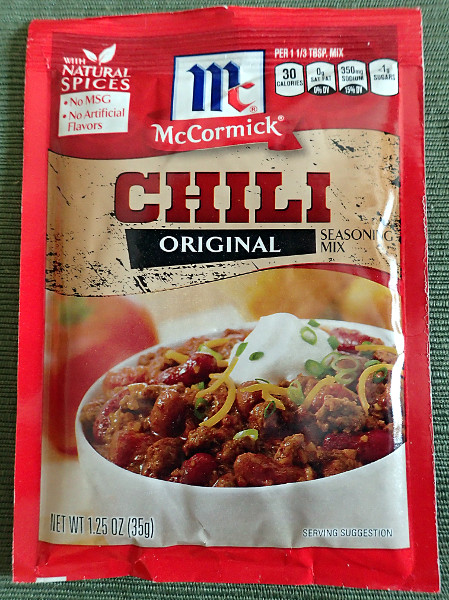 Going into the competition, I thought McCormick Original Chili Seasoning Mix would come out on top as it seems to among the best-known of the packaged mixes, but I was wrong. It ended up being the middle-of-the-road entry, with two tasters describing a heavier cumin flavor than the others. One taster judged this chili to have "nice aroma" but a "chemical flavor."
1st Place (tie): French's Chili-O Original Seasoning Mix/Durkee Original Chili Seasoning Mix –

Final Score = 3.4 out of 5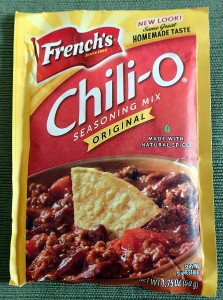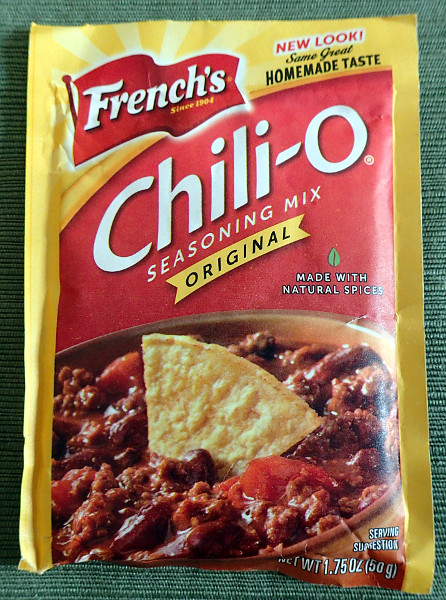 Eight out of nine testers gave highest marks to French's and Durkee's chili seasoning mixes, with each tallying a final average of 3.4 out of a possible 5. French's received three ratings of 4, the only mix to do so, and with only one judge giving it a a score lower than 3, who said it had a "bit more spice but lacks body." Three tasters described French's chili as "tangy" while another noted it as "slightly citrus-y, with more chili taste." Another said, "really liked the spice of this.
The Durkee mix made an equally strong showing, with one rating of 4 and another of 4.5 – the highest mark given to any mix. Comments included, "Nice smell and good taste!" and "good flavor and enough spice." However, even with the high marks, four of the nine judges found this mix to be salty. Their comments, "saltier and a bit more heat," "spiciest, salt," "very salty" and "too salty for me."
Conclusion:
I admit it.
I couldn't believe how much variation and flavor differences existed between the different mixes.
We declared two champions,but this isn't a comprehensive assessment of all available chili seasoning mixes. It's just the first in a quest to find the best one. In this case, you have the best two!
There's little doubt that the best chili comes from using pure chili powder and cooking it low and slow, but in a pinch we all could use some help with dinner now and again. That's where the good old chili seasoning mix packet comes in.
If you're faced with the same choices at your grocery store, eSoupRecipes.com and its helpful chili tasters recommend French's Chili-O Seasoning Mix or Durkee Original Chili Seasoning Mix.
So tell us, what is your favorite chili seasoning mix? Which ones should we include in the next Chili Seasoning Mix Packet Showdown?
Looking for the perfect soup pot to cook up your next batch of chili? I recommend the Lodge Enameled Cast Iron Dutch Oven. It comes in 11 different colors and is an excellent value for the price.
For smaller batches, the Unicook Dutch Oven 5 Quart model is my top choice for the money. You can get it for under $50 with free shipping.