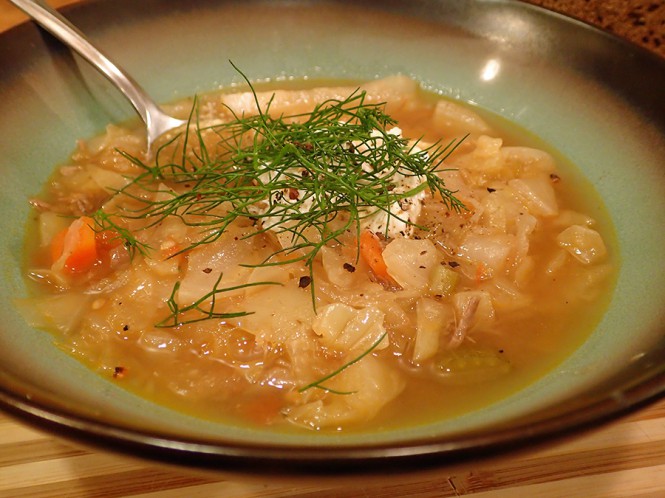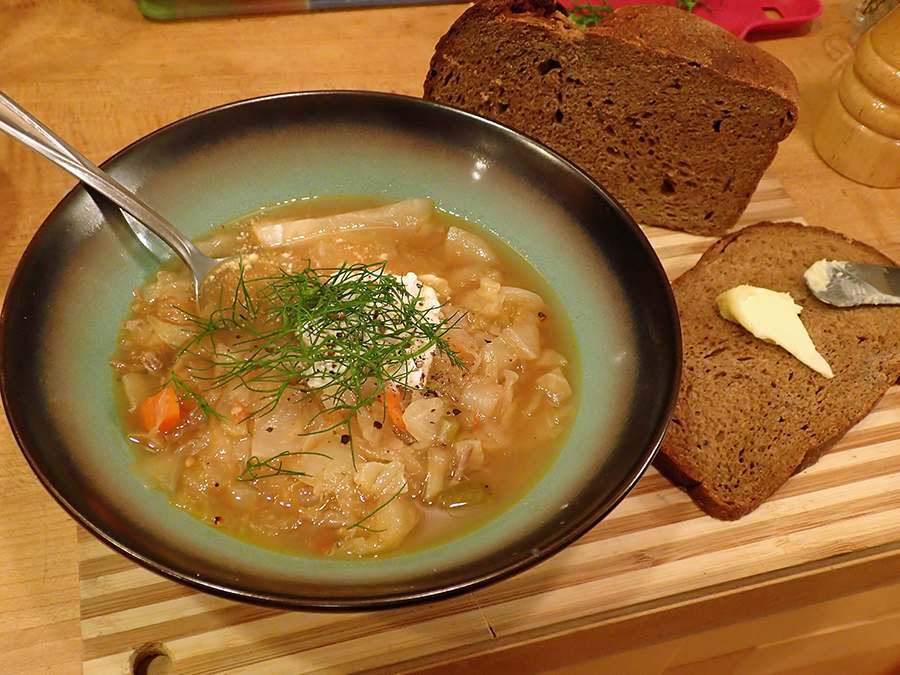 Last winter I spent a lot of time researching and cooking different soups and other recipes from Russia and Poland. I discovered some truly different and great flavors that were brand new to me. One of the soups that intrigued me most is called Shchi. (Don't ask me to pronounce it!)
Shchi is a cabbage soup that is something of a national dish in Russia and has been for centuries.
In the cookbooks and recipes I found online, there was no definitive version of this soup. Some recipes used beef, some used chicken, others were vegetarian. Some versions of Shchi called for cabbage only, others used sauerkraut instead of fresh cabbage, while other versions used both.
So, I took all these different takes on Shchi into account and came up with my own version, using what I like best and came up something that turned out very tasty.
This is a soup that takes time, best made on a weekend or day when you can commit to the soup pot.
How to make Shchi – Russian Cabbage Soup with Beef

For the stock

2 pound boneless beef ribs
1 beef soup bone
1 carrot, diced
1 rib of celery, diced
1 onion, quartered
6 black peppercorns (I prefer Tellicherry)
2 quarts water

For the soup
1 onion, diced
1 large carrot, peeled and diced
2 ribs of celery, diced
1 turnip, diced
2 tablespoons butter
1 green cabbage
1 teaspoon fresh dill, minced
1 tablespoon salt
2 bay leaves
1 teaspoon caraway
3 medium potatoes, diced
3 medium  tomatoes, diced
1 pound sauerkraut (drain if you want, for a more sour flavor add the juice)

To finish the soup
Salt and pepper
Sour cream
Fresh dill
Add the beef ribs and beef soup bone to a large pot.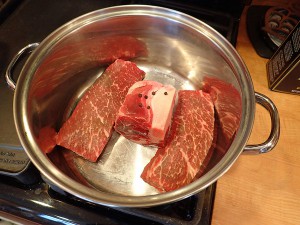 Peel and dice one large carrot and one celery stalk. Cut the onion into quarters.

Add the vegetables to the pot along with 6 black peppercorns.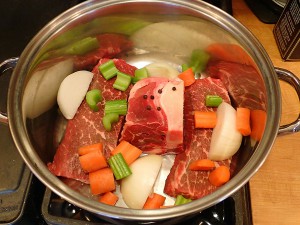 Pour 2 quarts water into the pot and turn heat to high to boil.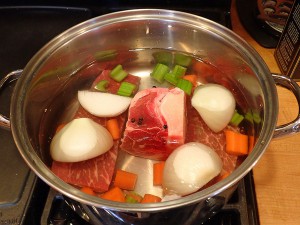 Reduce heat to simmer and cook for about 2-and-a-half hours, until ribs are very tender. Add water as needed to maintain about 2 quarts total liquid.
Turn off heat and remove ribs and soup bone and let cool. Remove vegetables from stock.

Dice one large carrot, two ribs of celery, one onion and one turnip.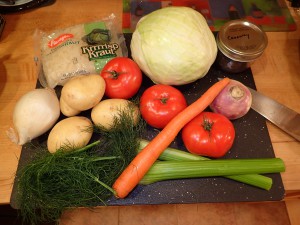 Into a large Dutch oven or soup pot, add 2 tablespoons butter and bring to medium heat.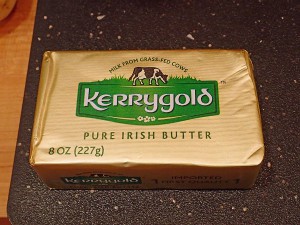 Add the carrot, celery, onion and turnip and cook for about 10 minutes, until vegetables are soft.
Chop the cabbage and mince approximately 1 teaspoon dill.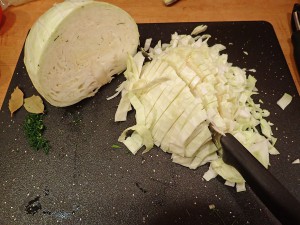 Add the cabbage, dill, 2 bay leaves and 1 tablespoon salt to the pot and cook for 5 minutes.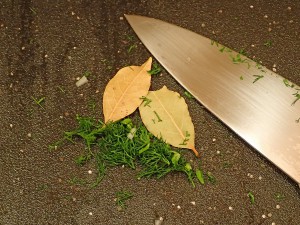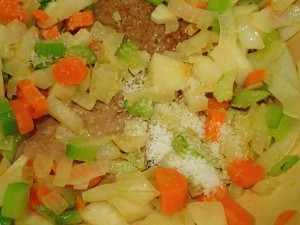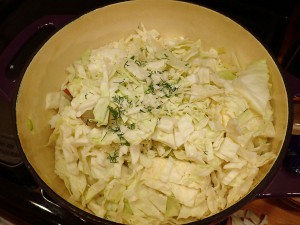 Measure 1 teaspoon caraway and add to the pot. Cook for another 5 minutes.
Add the stock to the pot and increase heat to high.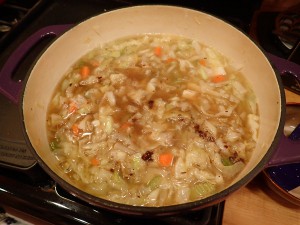 Dice the potatoes and add to the soup. Bring to a boil, reduce heat to medium and cook for about 20 minutes, until potatoes are tender.
Shred the meat and cut off any usable bits from the soup bone.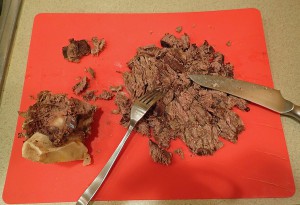 Dice the tomatoes.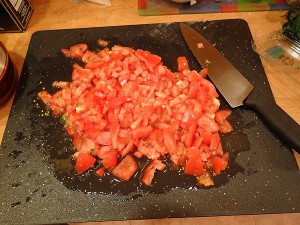 Add the meat, tomatoes and sauerkraut to the pot and stir. Cook for another 15 to 20 minutes to heat everything through. Taste for seasoning and add salt and freshly ground black pepper as needed.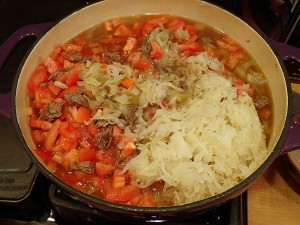 Ladle soup into bowls and top with sour cream, cracked black pepper and fresh dill.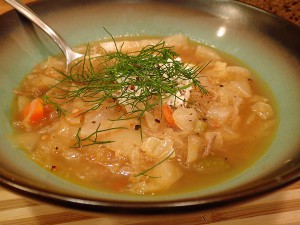 Serve with a nice dark rye bread and butter.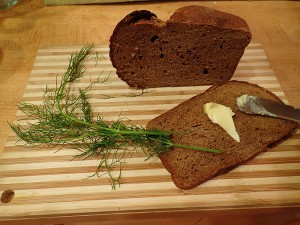 Looking for the perfect pot to cook up your next batch of soup? I recommend the Lodge Enameled Cast Iron Dutch Oven. It comes in 11 different colors and is an excellent value for the price.