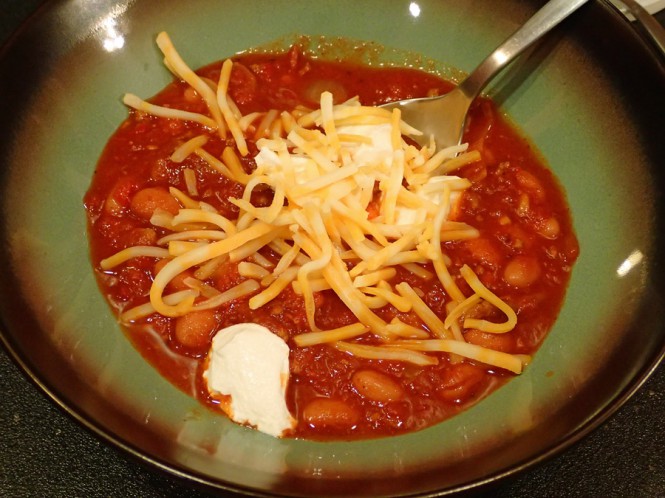 Here is one of my "go-to" chili recipes when I'm serving company or other folks who like chili but can't tolerate the heat of chipotles or spicy chili in general. The key to this is the roasted red peppers and garlic. They create a rich depth of flavor, with a hint of smokiness that doesn't go overboard. The coriander adds a subtle sweetness. I have yet to meet someone who doesn't like this chili. I usually make this when ground turkey goes on sale. Let's face it: cooked ground turkey doesn't have much flavor, but that makes it perfect for the chili pot where it can slowly simmer with a bunch of spices to yield a delicious finale.
How to make Ground Turkey Chili with Roasted Red Peppers and Garlic
4 cloves garlic
1 (12-ounce) jar roasted red peppers, drained of liquid
1 & 1/2 pounds ground turkey
2 tablespoons olive oil
1 large onion, diced
1 teaspoon ground coriander
2 teaspoons ground cumin
2 teaspoons dried oregano
1/3 to 1/2 cup chili powder
1 quart (4 cups) beef broth
1 (28-ounce) can diced tomatoes
2 (16-ounce cans) pinto beans, drained and rinsed well
Into a skillet, place the garlic cloves with their skins on, and roast over medium heat until the skins become dark and blistered. Remove and let cool.

When cool to the touch, peel garlic cloves and put into a food processor with the drained roasted red peppers.

Blend for about 20 seconds, until the garlic and peppers liquidize. Set aside.

In a large Dutch oven or soup pot, add 1 tablespoon olive oil and heat over medium. Add the ground turkey and cook through.

Drain the excess fat and remove cooked turkey to a plate. Wipe the Dutch oven clean, add 1 tablespoon olive oil and bring to medium heat.

Add the diced onion to the pot and saute for 6 to 7 minutes, until onions start to become translucent.

Add the dry spices.

Stir for 2 to 3 minutes to incorporate thoroughly.

Add the roasted red pepper and garlic mixture. Stir and cook for a minute or so.

Pour in the tomatoes and beef broth. Stir and bring to a boil.

Reduce heat and let simmer for 1 hour or longer. Longer is better.

Add the beans and continue to simmer for 30 minutes.

Taste for seasoning and serve. Favorite toppings in my house are cheddar cheese, sour cream, lime juice and cilantro.

Looking for the perfect pot to cook up your next batch of soup? I recommend the Lodge Enameled Cast Iron Dutch Oven. It comes in 11 different colors and is an excellent value for the price.