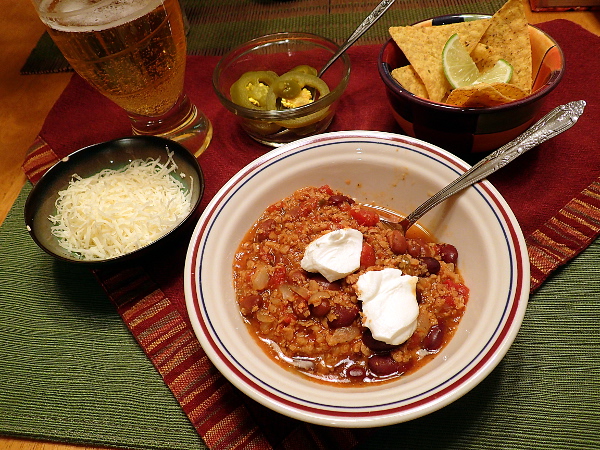 For this Vegetarian Taco Soup Recipe, Ranch Dressing helps give the mixture a fresh and bright flavor. This taco soup recipe is also easy to make, and can be assembled very quickly using a handful of ingredients most of us keep in our cupboards: Ranch Dressing Mix Packet, Taco Seasoning, beans and tomatoes. The only wild card here is Textured Vegetable Protein (TVP), which can be found in most grocery stores either in the aisle where baking goods are kept, in the organic foods section and online. The Rotel tomatoes with chilies give it some extra bite, and I use Penzeys Bold Taco Seasoning instead of a packet mix. If you don't like spicy taco soup, use a can of regular crushed tomatoes and a packet of mild taco seasoning. Bottom line: this meatless taco soup is very flavorful and adaptable.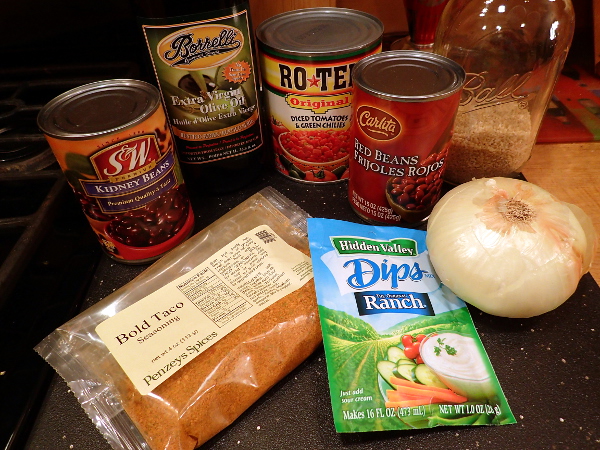 What is Textured Vegetable Protein?
Textured Vegetable Protein (TVP) is a dried soy product that looks like bulgur wheat, except the individual protein "grains" of TVP have a more ragged and crunchy appearance (see the photo below for comparison). TVP is convenient because you can keep it in the cupboard and bring it out when needed. You don't have to refrigerate it or defrost it before using. TVP can be rehydrated easily with water or your favorite broth, generally in a 1:1 ratio: 1 cup of TVP to 1 cup of liquid.
What does TVP taste like?
TVP doesn't really taste like much when it is reconstituted using water. The flavor is that of a neutral grain, something like bulgur wheat. However, TVP is like a flavor sponge and quickly takes on the essence of its surrounding ingredients, making it perfect to use in well-seasoned soups. It also has a crumbly texture that is similar to ground meat, so it is a natural veggie substitute for recipes calling for ground beef or ground turkey.
How much TVP is equal to a pound of ground beef?
For recipes that call for 1 pound of ground beef, the equivalent amount of dried Textured Vegetable Protein would be 1 cup. Once the TVP is rehydrated with an equal amount of liquid (1 cup dry TVP to 1 cup liquid), the grains swell and increase in volume.

Vegetarian Taco Soup with Ranch Dressing
Ingredients
1 cup boiling water
1 cup dry Textured Vegetable Protein (TVP)
1 tablespoon olive oil
1 onion, diced
15-ounce can red beans or pinto beans, drained and rinsed thoroughly with cold water
15-ounce can kidney beans, drained and rinsed thoroughly with cold water
28-ounce can Rotel diced tomatoes with green chilies
2 tablespoons taco seasoning (or 1 packet taco seasoning mix)
1 packet ranch seasoning mix (you can't go wrong with Hidden Valley)
1½ cups water
Instructions
Put the TVP in a small saucepan, pour over it the boiling water and stir
Let sit 5 minutes to rehydrate
In a Dutch oven or soup pot add the olive oil and heat over medium
Stir in the onions and cook 5 minutes
Add the TVP and cook for 2 minutes
Pour in the taco seasoning and ranch seasoning; stir well to coat and cook for another minute or so
Add the beans, tomatoes, water and bring soup to a boil
Reduce heat to low, cover and simmer 30 minutes
Garnish with your favorite taco toppings, such as shredded cheddar cheese, sour cream, pickled jalapeno pepper slices, cilantro and/or lime juice.
Serve with corn chips and your favorite beverage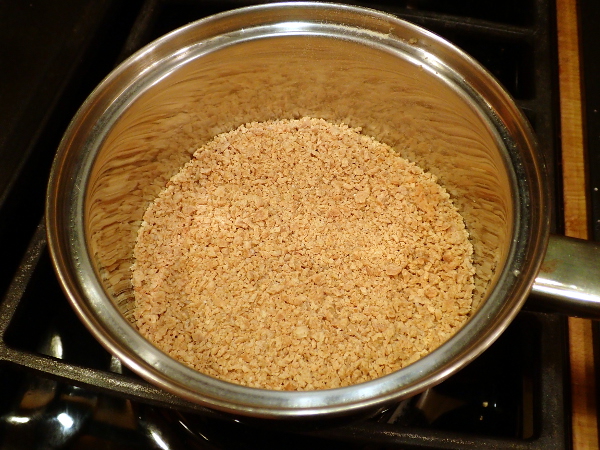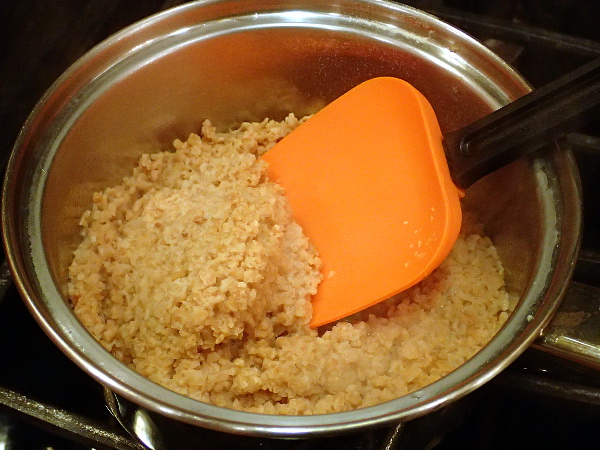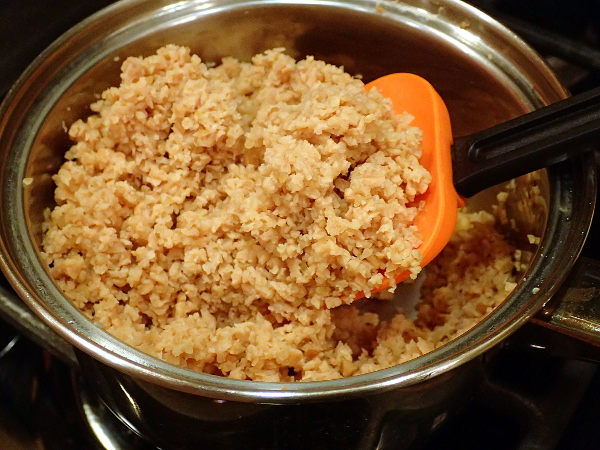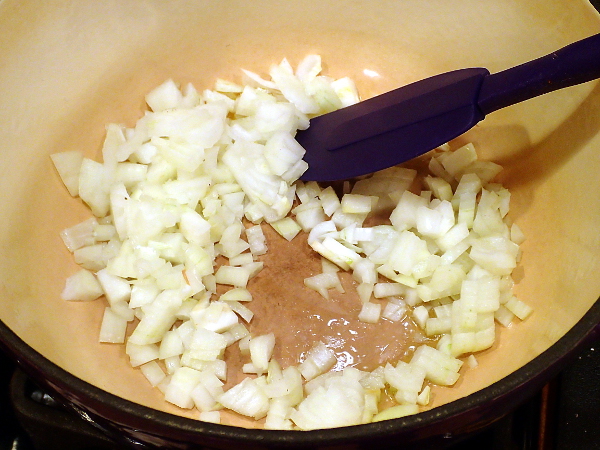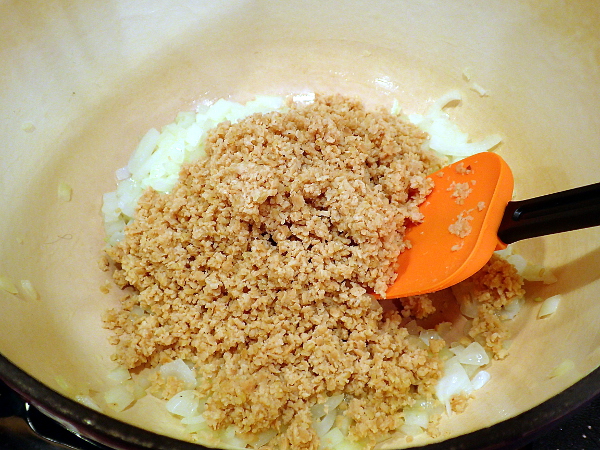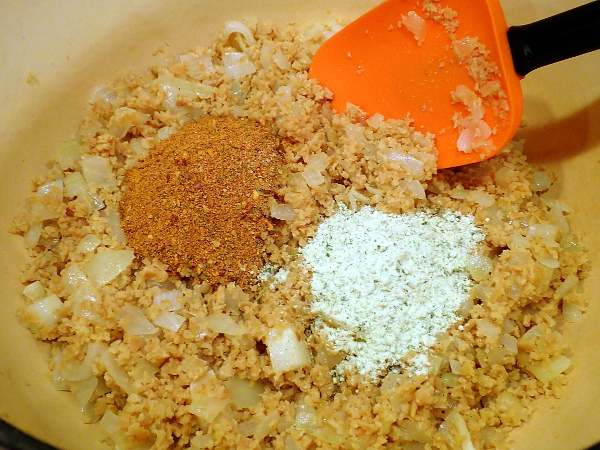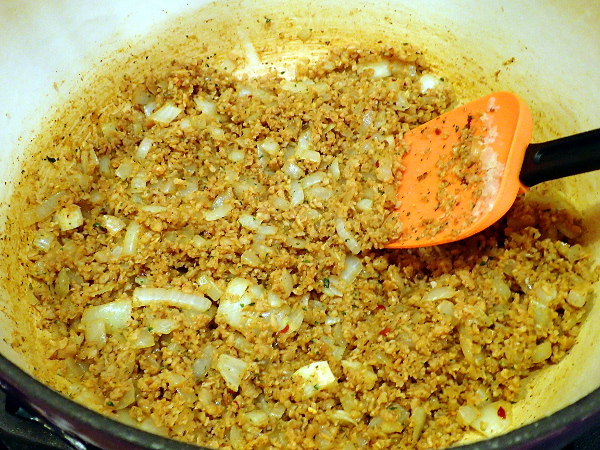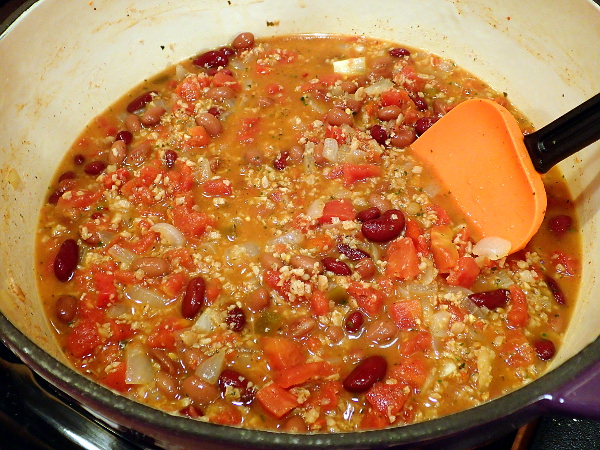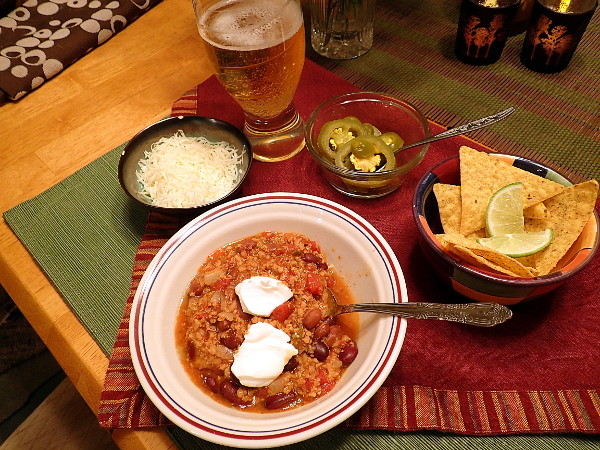 Looking for the perfect pot to cook up your next batch of soup? I recommend the Lodge Enameled Cast Iron Dutch Oven. It comes in 11 different colors and is an excellent value for the price.