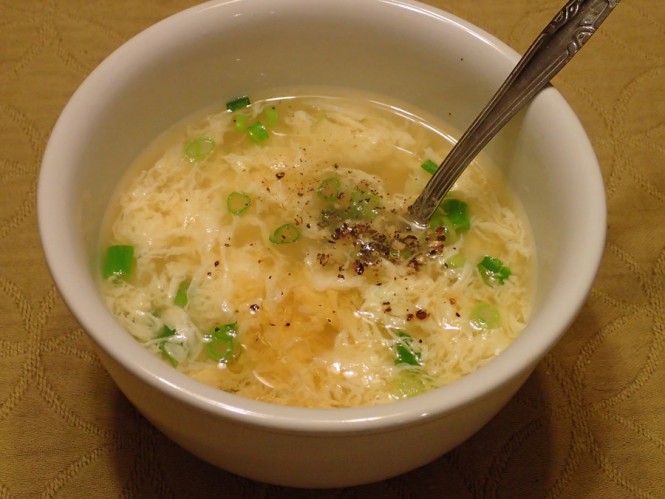 Egg drop soup is one of the most popular items on the menus of Chinese restaurants across North America and beyond. This humble soup requires little more than chicken broth or stock and an egg or two to make something special out of the ordinary. By slowly incorporating and swirling eggs into the hot broth, little flowers of egg thicken the soup like noodles and give it added substance and flavor.
I like to add chopped scallions and a drizzle of sesame oil just before serving. And this soup stands up well to experimentation, so feel free to add a spoonful of chopped parsley, ginger or some cooked shrimp or chicken to make a heartier version.
As it is, this vegetarian egg drop soup is so easy to make, and yields such great results, that once you whip up a batch  you'll never need to order take out again.
All you need are 4 ingredients.
Here's how you do it.
Chinese Egg Drop Soup Recipe (serves 4)
Ingredients
1 quart Chicken Broth or Chicken Stock
2 Eggs at room temperature
1 Scallion, green part sliced into thin rings
Sesame Oil (to finish)

How to make Chinese Egg Drop Soup 
Pour the chicken broth/stock into a 1 1/2- or 2-quart saucepan or stock pot and bring to a boil

Beat the eggs in a small bowl

When the stock is boiling, slowly pour the eggs into the soup and stir in a circular motion with the tines of a fork or chopsticks (I like to use chopsticks) until thin threads of cooked egg form in the liquid




Take the soup off the heat and add some chopped scallions

Pour into bowls, making sure that each diner gets plenty of egg "flowers" in his or her soup, and drizzle sesame oil over the top.

Egg drop soup can be part of a larger themed dinner or dinner party. You can take the experience to the next level by dishing out your egg drop into some stylish Asian-style soup bowls with deep spoons.