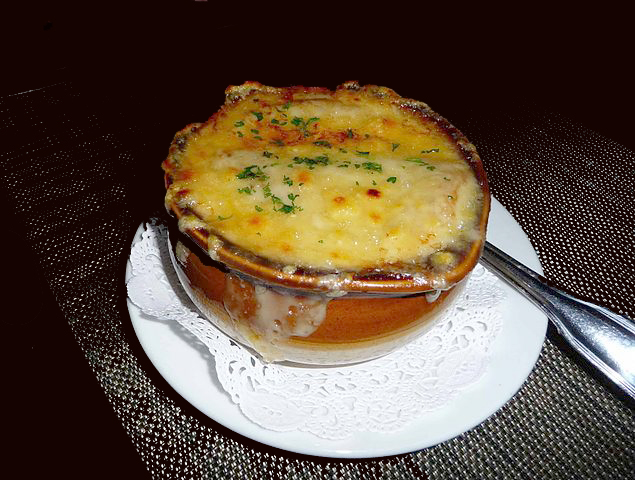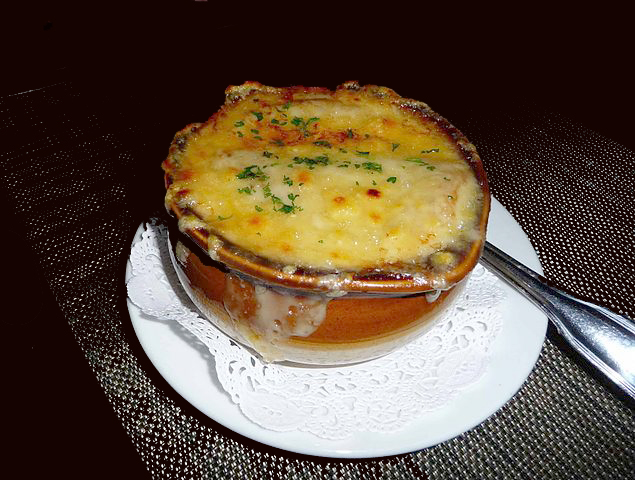 Classic French Onion Soup
French onion soup is an example of a dish that is very simple to make but has an incredible depth of flavor. Cooking the onions for a long period of time caramelizes them and brings out their natural sweetness, which is a perfect flavor counterpart to the savory heartiness of beef broth. And who can resist a golden cap of melted cheese to bring the soup together? With just a handful of ingredients and a little patience, anyone can make a superb French onion soup.
How to make Classic French Onion Soup
4 large onions (Spanish, yellow, Vidalia)
4 tablespoons butter
1 quart beef broth/stock
½ cup shredded cheese (I recommend any of these cheeses: Emmental, Gruyère, Idiazabal, Parmesan)
Day-old French bread cut into ½-inch thick rounds
Peel and slice the onions into thin rings
Into a large Dutch oven or soup pot, add the butter and heat over medium
Add the onions and saute in the butter, stirring occasionally, for approximately 45 minutes until the onions are a deep, rich brown color.
Pour the beef broth/stock over the onions and stir well.
Allow to simmer for 30 minutes.
Place a piece of bread on the bottom of an oven-proof French onion soup crock.
Ladle the soup over the bread and top with cheese.
The soup can be finished by placing the crocks under a broiler for 3 to 5 minutes, until cheese has melted and turns bubbly and crispy. Or, put the crocks onto a sturdy baking sheet and into a 375 degree oven for about 10 minutes to melt the cheese. Be very careful with the crocks after they've been under the broiler or in the oven.
Looking for the perfect pot to cook up your next batch of soup? I recommend the Lodge Enameled Cast Iron Dutch Oven. It comes in 11 different colors and is an excellent value for the price.