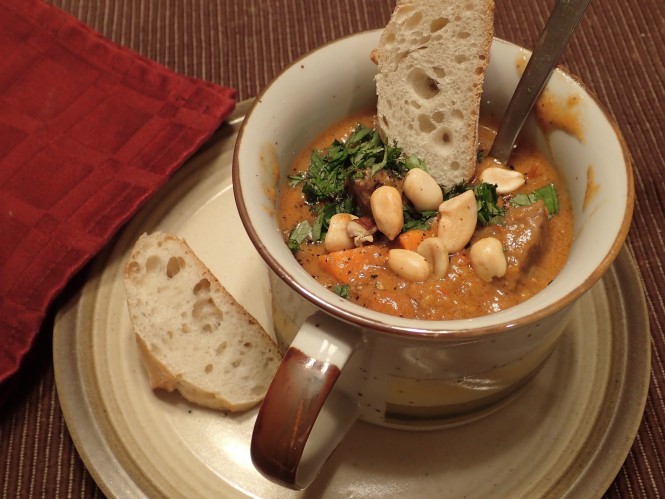 Peanuts are used in the cooking of many countries in West Africa, and African Peanut Soup is one of the region's tastiest dishes imaginable. There are many different peanut soup recipes, some contain chicken; other recipes, like this one, use beef. And for a bit more flavor punch I added a beef soup bone. Try to find a natural peanut butter that does not contain sugar. You can use creamy or crunchy peanut butter, depending on your preference – or a combination of both! Increase the amount of crushed red pepper if you want a spicier soup. And although it is not traditional in West African cooking, I like to finish this soup with chopped fresh cilantro for a bit of Caribbean-style flair. And to make it extra good, I spoon on some chopped roasted peanuts as well!

African Peanut Soup with Beef
Ingredients
1 pound stew beef cut into 1-inch cubes
1 beef soup bone (optional)
3 tablespoons palm oil (if you don't have palm oil, you could substitute peanut oil or canola oil)
1 large onion, diced
1 red bell pepper, cut into 1-inch pieces
1 pound tomatoes,diced (I used Roma tomatoes)
1 clove garlic, minced fine
1 quart beef broth
1 teaspoon salt
½ teaspoon crushed red pepper or cayenne pepper
½ teaspoon ground coriander
½ teaspoon chili powder
⅔ to ¾ cup natural peanut butter (chunky or smooth)
1 large sweet potato (approximately 1 pound) cut into ½-inch pieces
6 sprigs of cilantro
Instructions
In a Dutch oven or soup pot, heat 1 tablespoon palm oil over medium heat
Add half the beef and cook until browned
Remove beef and set aside, again add 1 tablespoon palm oil and brown the remaining beef and set aside
Add the final tablespoon palm oil to the pot and heat over medium
Dump in the onions and bell pepper and cook for about 5 to 6 minutes, until the vegetables become soft
Add garlic and cook for another minute or two
Put the beef (and soup bone if using) into the pot
Stir in the tomatoes, salt, crushed red pepper, coriander and chili powder
Pour in the beef broth and bring to boil
Cover and simmer for 1 hour, or until beef is tender
Add the sweet potato
Stir in the peanut butter and bring to a boil once more
Reduce heat and simmer for 25 to 30 minutes, until sweet potatoes are tender
Serve topped with some freshly cracked black pepper, chopped cilantro and a spoonful of peanuts
Looking for the perfect pot to cook up your next batch of soup? I recommend the
Lodge Enameled Cast Iron Dutch Oven
. It comes in 11 different colors and is an excellent value for the price.