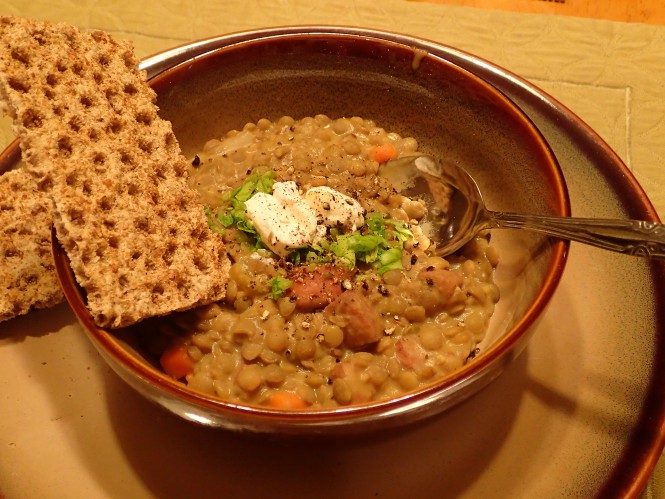 The cuisine of Hungary isn't very well known outside of its boundaries, which is a shame because the country is home to many fantastic dishes including soups.
In Hungarian cooking, flour and lard are often used to form a "roux," which helps thicken and flavor this soup. Sour cream is another favorite soup ingredient, often stirred into the pot just before serving for a pleasant tanginess.
Lentil soup (called Lencseleves in Hungary) is often eaten on January 1, as Hungarians believe it will bring them luck for the New Year. Regardless of when you eat it, I hope you find this lentil kielbasa soup delicious and lucky.
This recipe makes a very thick, almost stew-like soup; so if you prefer a thinner consistency add additional water as it cooks and adjust the salt and pepper to your liking.

Ingredients
1 pound green lentils, rinsed thoroughly in cold water
8 cups cold water
1 tablespoon olive oil
½-pound kielbasa or smoked ham, cut into small cubes
1 small onion, diced
1 carrot, diced
1 rib celery, diced
2 cloves garlic, minced
1 teaspoon paprika
2 bay leaves
1 & 1/4 teaspoons salt
1/2 teaspoon black pepper
2 tablespoons flour
2 tablespoons lard
¼ cup sour cream
A few sprigs parsley, chopped
Salt and freshly cracked pepper to taste
How To Make Hungarian Lentil Soup with Kielbasa
Rinse the lentils thoroughly with cold running water
Heat the oil in a large Dutch oven or soup pot and saute the onion, carrots and celery for about 5 minutes

Add the garlic and paprika and continue cooking for 2 to 3 minutes more

Add the lentils, bay leaves, salt, pepper and kielbasa or ham

Pour in the water, bring mixture to a boil and reduce heat to simmer

Cook until the lentils and vegetables are soft, about 40 minutes
In a small saucepan or skillet, melt the lard over medium heat and brown the flour in the fat until golden in color


Add about 1 cup of the soup into the flour/lard mixture and cook until smooth, stirring frequently

Pour this back into the soup and stir well
Add the sour cream and let simmer for 5 more minutes

Stir once again to incorporate everything

Taste for seasoning and add salt and pepper as needed
Top with chopped fresh parsley and serve –  a spoonful of sour cream on top is always good!