To make a really great French Onion Soup, dripping over with thick gobs of melted cheese, you need a soup crock that can stand up to the heat of an oven or broiler. And it occurred to me after a recent recipe posting for Classic French Onion Soup that many of you who love this soup may not have the proper soup crocks to make it at home. Normal soup bowls are not recommended for such a preparation, so if you don't have any French Onion Soup Crocks, here are my Top 3 recommendations:
1. Kitchen Supply 8035 White Porcelain Onion Soup Bowl with Handle

(1 Bowl)
While these bowls are on the expensive side at $14.99 each, they are oven-safe to 500 degrees Fahrenheit and have handles, making them very easy to remove from the oven and serve.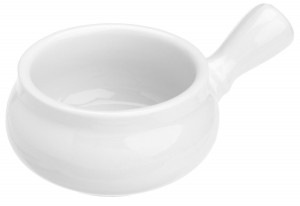 2. Over & Back Lion's Head Porcelain Bowls (Set of 8)
At less than $40 for a set of eight bowls, the Over & Back Lion's Head set is an excellent value for a family or for small gatherings. They hold just shy of 1 pint of liquid, more than enough to serve big appetites. The downside? The bowls don't have handles, and that might be a deal breaker for some of you.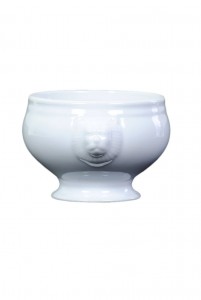 3. Daily Chef Fireside Soup Bowl  (4 Pack)
These oven-safe soup bowls are the most expensive of the group, with a set of four bowls at just under $70. However, the soup lover and soup maker will both benefit from the dual-handle design, making the bowls very easy to slip in and out of the oven and onto the dining table.