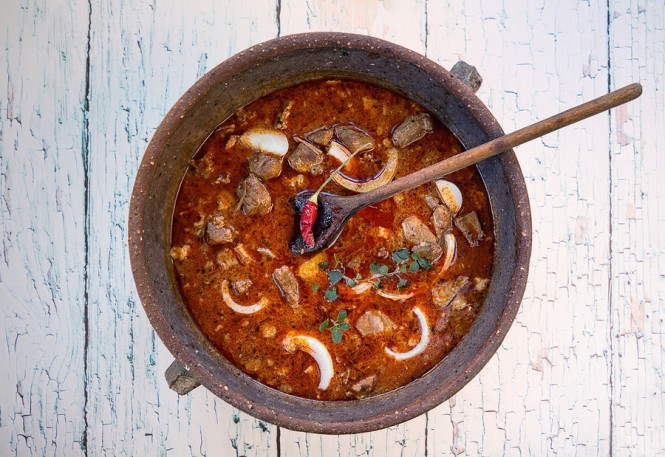 Hungarian goulash is one of that country's best-known and loved dishes and one we generally think of as a stew, but originally goulash was closer to a soup than a stew and this Goulash Soup Recipe version reflects those origins. Stew meets soup in this rich Goulash Soup full of the flavors of Hungary.
Hungarian Goulash Soup
Ingredients
1 pound stew beef, cut into ½-inch cubes
2 tablespoons lard, butter or olive oil
1 tablespoon sweet paprika
1 medium onion, diced
2 quarts beef broth
1 green bell pepper, diced
2 carrots, diced
2 pounds red potatoes, diced
1 tablespoon caraway seeds
2 bay leaves
Fresh parsley sprigs, chopped
Salt and freshly cracked black pepper
Instructions
Drop the lard into a Dutch oven or soup pot and melt it over medium heat
Add onions and saute for 5 minutes or until translucent
Add beef and sprinkle paprika and caraway over the meat and onions
Pour in ¼ cup water and stir until mixture begins to bubble
Pour in 2 quarts beef broth and add bell pepper, carrots and potatoes
Let the mixture simmer until beef and vegetables are tender
Taste for seasoning and add salt, pepper and additional paprika as desired
Pour into bowls and top with chopped fresh parsley or your favorite herbs
Looking for the perfect pot to cook up your next batch of soup? I recommend the Lodge Enameled Cast Iron Dutch Oven. It comes in 11 different colors and is an excellent value for the price.